All Items
>
Music
>
Dragon's Crown Original Soundtrack
Dragon's Crown Original Soundtrack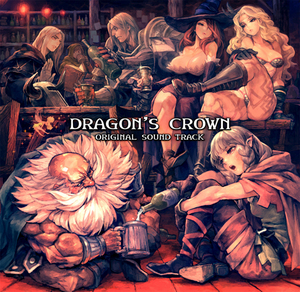 | | |
| --- | --- |
| Item Number | 4582317080211 |
| Item Name | Dragon's Crown Original Soundtrack |
| Price | 3,456 YEN |
| Exchange Rate | ≈ 31.93 USD |
The soundtrack of "Dragon's Crown" created by Atlas and Vanillaware has appeared!


■The soundtrack of "Dragon's Crown" Preview



It's the majestic fantasy spun by Hitoshi Sakimoto.
Now, the day-to-day adventures that unfold with a powerful world view are being revived with this music!

The original sound track of "Dragon's Crown", the highly popular 2D action fantasy RPG, is finally on sale!

The sound track of "Dragon's Crown" that has created a beautiful and powerful world has finally appeared!
In addition to the entire 56 compositions of Hitoshi Sakimoto, used in this game, we have recorded and arranged as a bonus sound track for your enjoyment, the performance of Yu Kanai, the pianist, renowned for his powerful playing at the 2015 Piano Restaurant with the 4ster orchestra.
The jacket has been created by Vanillaware.
In addition to the countless beautiful illustrations, the booklet which has a many as 12 pages, offers the comments of Mr.Kamitani and Sakimoto of Vanillaware!

It is a gorgeous 3-disc set, a must-have for Dragon Crown fans!

■Tracklist:3-disc set, with the entire 58 compositions.

D1-01 Dragon's Crown
D1-02 Title Theme
D1-03 Ancient Temple Ruins
D1-04 Encounters
D1-05 Dragon's Haven Inn
D1-06 Old Capital
D1-07 The Beginning of the Trial
D1-08 City Street
D1-09 Wallace's Underground Labyrinth
D1-10 A Decision has to be Made
D1-11 Adventurers Guild
D1-12 Bilbaron Subterranean Fortress
D1-13 Fighting Off the Fierce Attacks
D1-14 Castle of the Dead: Catacombs
D1-15 The Quiet Residence
D1-16 Ghost Ship Cove
D1-17 The Threat of Swarms
D1-18 Forgotten Sanctuary
D1-19 Unavoidable Clash
D1-20 Victory
D2-01 World Map
D2-02 Mage's Tower
D2-03 Shadow of the Throne
D2-04 Castle
D2-05 Lost Woods
D2-06 Variant Eyes
D2-07 Canaan Temple
D2-08 Ancient Temple Ruins - Route B
D2-09 Full of Sorrow
D2-10 Wallace's Underground Labyrinth - Route B
D2-11 Appearance of Evil
D2-12 A Moment of Rest
D2-13 Bilbaron Subterranean Fortress - Route B
D2-14 The Fight with Reinforcements
D2-15 Lost Woods - Route B
D2-16 The Labyrinth Hideout
D2-17 Castle of the Dead: Catacombs - Route B
D2-18 Those that Threaten Life
D2-19 Annihilation
D3-01 Colosseum
D3-02 Ghost Ship Cove - Route B
D3-03 Morgan's Magic Item Shop
D3-04 Mage's Tower - Route B
D3-05 Mystery and Sadness
D3-06 Forgotten Sanctuary - Route B
D3-07 Fierce Fight
D3-08 Lucain's Tower
D3-09 Old Capital - Route B
D3-10 Decisive Battle of Roaring Flames
D3-11 Memories to be Told
D3-12 Looking for the Ancient Crown
D3-13 Returning Home
D3-14 The Triumphant Return of the Hero
D3-15 The Normal Ending
D3-16 The Ending Theme
D3-17 The True Complete Ending
D3-18 City Street - Piano Ver.
D3-19 World Map - Piano Ver.


(C)ATLUS (C)SEGA All rights reserved.