All Items
>
goods
>
Neko Atsume acrylic chain charms from "Joi-Colle" Part2
Neko Atsume acrylic chain charms from "Joi-Colle" Part2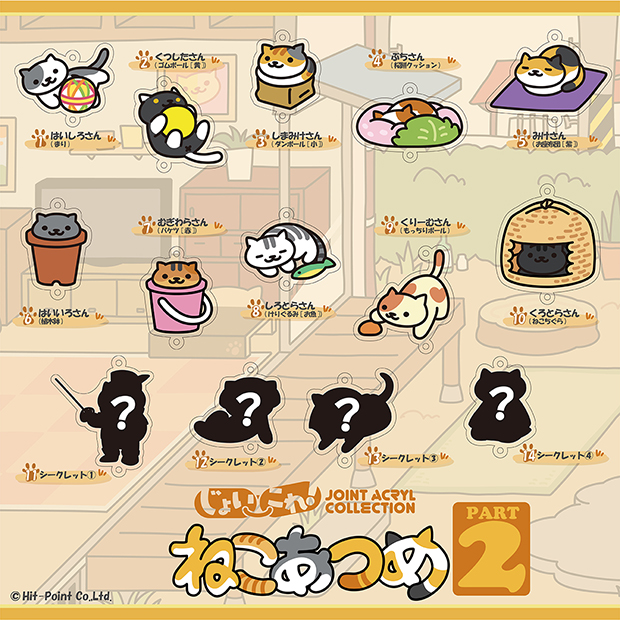 | | |
| --- | --- |
| Item Number | 4541993025077 |
| Item Name | Neko Atsume acrylic chain charms from "Joi-Colle" Part2 |
| Price | 7,560 YEN |
| Exchange Rate | ≈ 69.84 USD |
【Product Description】
"Neko Atsume", a mobile app that has been keepping cat lovers agonisingly happy, has released their acrylic charm sets "Joi-Colle"!!

【List Of Cats】
Lexy(Temari ball) / Socks(Rubber ball[Yellow]) / Tabitha(Shopping Box[Small]) / Patches(Sakuramochi Cushion) / Callie(Pillow[Purple]) / Shadow(Planter) / Princess(Bucket[Red]) / Mack(Kick toy[saury]) / Peaches(Stress Reliever) / Willie(Basket Case) / Secret 1 / Secret 2 / Secret 3 / Secret 4

※The items on the images are not of the finalised version. The details such as colours and designs might be changed without any announcement.





What is "Joi-Colle"?
"Joi-Colle" are acrylic keychain charms that can be used separately or can be joined together. It is fun to collect your favourite characters. Why not swap some with your friends'?

Collect, swap, and join them in the order you like!


■ Product Specification
A complete set of 14 different charms in a box
※Purchase one box and you will have a complete set of all 14 charms.


Charm size: 40 x 40mm approximately
Box size: H79 x W170 x D79.5mm
Charm materials: acrylic resin, metal
Box materials: paper (poly-propylene film on the surface)


(C)Hit-Point Co.,Ltd.