All Items
>
Music
>
Muramasa Rebirth Genroku Legends Original Soundtrack
Muramasa Rebirth Genroku Legends Original Soundtrack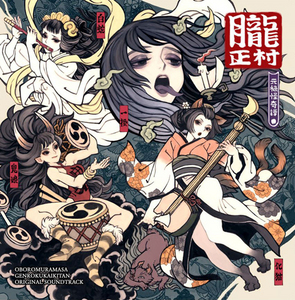 | | |
| --- | --- |
| Item Number | 4582317080228 |
| Item Name | Muramasa Rebirth Genroku Legends Original Soundtrack |
| Price | 3,132 YEN |
| Exchange Rate | ≈ 28.73 USD |
The original sound track that has the recordings of the music for all four volumes of the"Muramasa Rebirth Genroku Legends", the DLC contents of "Muramasa Rebirth", has appeared!

The four captivating stories being told.
The picture scroll of forty-four compositions, played by four authors.

We have recorded on a set of 2 discs all 44 compositions, newly created for the "Muramasa Rebirth Genroku Legends"!

The "Basis Cape Writers", Kudo of "津奈缶猫魔稿"、Chiba of "大根義民一揆", Kaneda of "七夜祟妖魔忍伝" and Iwata of "角隠女地獄" served as the directors of their respective music, so each of their DLCs differ significantly.

The booklet presents the secret stories behind the compositions, narrated by the four artists, their comments that are not available elsewhere and the lyrics of "Ine no hana (rice plant flowers), the song with which "Oone Gimin Ikki" ends.

Please pay attention to the glossy jacket which Vanillaware has produced specially for this soundtrack.

■Tracklist: 2-disc set with all 44 compositions

D1-01 Strike the Four Strings
D1-02 Bitter Experiences
D1-03 Weak Control Strong
D1-04 Mountains and Rivers A
D1-05 Mountains and Rivers B
D1-06 Capitalize on Strength
D1-07 People Gathering
D1-08 Perseverance A
D1-09 Perseverance B
D1-10 Sworn Enemy
D1-11 Inescapable Punishment
D1-12 A Friend Indeed
D1-13 Nip the Evil in the Bud
D1-14 High‐Rise Buildings A
D1-15 High‐Rise Buildings B
D1-16 Never Giving Up
D1-17 Simple Meal
D1-18 Fight for a Good Cause A
D1-19 Fight for a Good Cause B
D1-20 Fierce Battle
D1-21 Rice Flower
D1-22 Rice Flower Instrumental
D2-01 Astonishing Sight
D2-02 Diamond Cut Diamond
D2-03 Solid Fortress A
D2-04 Solid Fortress B
D2-05 Triangular Contest
D2-06 Pursuit A
D2-07 Pursuit B
D2-08 Deceiving
D2-09 Extreme Danger
D2-10 Strong Will
D2-11 Eternal Traveller
D2-12 Extraordinary Incident
D2-13 Clouds Always Follow the Sun
D2-14 Vivid Sight of Spring A
D2-15 Vivid Sight of Spring B
D2-16 Seduction
D2-17 Groping in the Dark A
D2-18 Groping in the Dark B
D2-19 Blossoms Falling in Confusion
D2-20 Graceful Wife
D2-21 Seven Treasures
D2-22 Dear Wife


(C)2009, 2013 Marvelous Inc.